Body
Whether you're a history buff or a nature lover, there's something waiting to be discovered around every corner in Nanjing. Scenic cruises down the city's "Mother River" pass by ancient architecture and sacred sites, while the city's many museums reveal relics dating to the earliest days of Chinese civilization.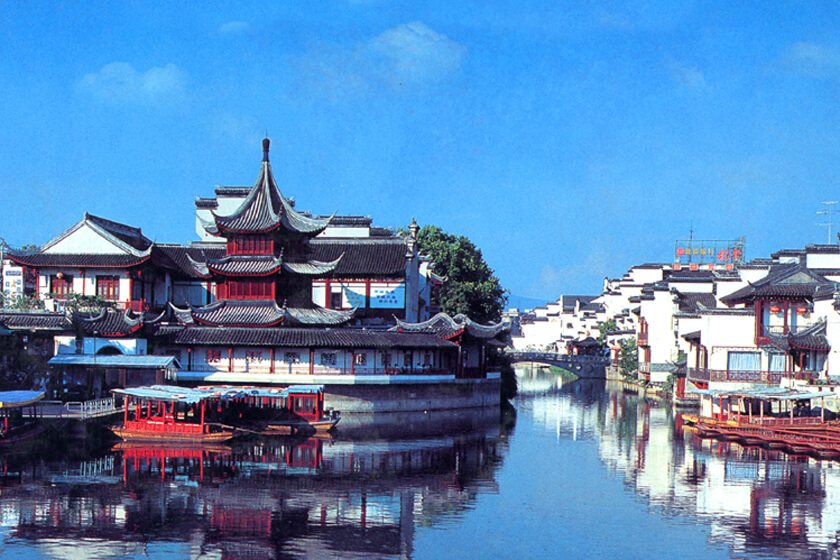 Purple Mountain (Zhongshan Mountain National Park)
Towering in the eastern suburbs of Nanjing, Purple Mountain is one of the most well-known mountains in Southern China. The beautiful mountain got its name from the purple hued clouds that often surround its peak. The national park that encompasses Purple Mountain is home to 15 important historical and cultural relics including Dr. Sun Yat-sen's Mausoleum, and one UNESCO World Heritage Site – the Xiaoling Tomb of Ming Dynasty.
Dr. Sun Yat-sen's Mausoleum
The mausoleum of Dr. Sun Yat-sen (1866-1925), the father of the Republic of China, is a site of deep historical significance, magnificent architecture and beautiful scenery located at the Zhongshan Scenic Area in Purple Mountain. Covering nearly 20 acres, the lush scenic is a tribute to the noble spirit and heroic efforts of Dr. Sun Yat-sen's devotion to the Chinese people and their fight for independence. Visitors can view the memorial archway, mausoleum gate, tombstone pavilion and memorial hall. The coffin chamber is not accessible to visitors.
Location: Xuanwu
Hours: Tuesday–Sunday, 8:30 a.m.–5 p.m.; Closed Monday
Admission: Mausoleum, including Fraternity Square, the Mausoleum Passage, the Stele Pavilion, the Sacrificial Hall and the Burial Room, free
Xiaoling Tomb of the Ming Dynasty
The mausoleum of the Ming Dynasty's founding emperor, Zhu Yuanzhang, and his wife Ma, is one of the largest imperial tomb complexes in China. The most iconic part of the 600-year-old UNESCO World Heritage Site is the half-mile long Sacred Path, along which four pairs of stone warriors and 12 pairs of mythical creatures play guard to the deceased emperor. The tomb is set amongst an incredibly scenic environment where seasonal plants form breathtaking backdrops -- plum blossom in spring and gingko and maple trees in autumn.
Location: Wengzhong Road, Xuanwu District
Hours: 6:30 a.m.–5 p.m. daily
Admission: CNY 70 (US $10.60)
Confucius Temple Qinhuai Scenic Area
With quaint riverboats, footbridges and historic Chinese architecture flanking its banks, the Qinhuai River is one of Nanjing's top attractions. Known as the "Mother River," the Qinhuai has been the birthplace of Nanjing culture since the city's beginnings. In A.D. 1034, during the reign of the Song dynasty, Confucius Temple was first built along the river; it was later destroyed during World War II, but the temple was reconstructed and expanded by the Chinese government in 1984. Today, the Qinhuai Scenic Area is home to many shops, restaurants, gardens and historic sites, including the Jiangnan Imperial Examination Hall and Dacheng Hall, which houses China's largest statue of Confucius plus a precious collection of jade, goldand silver panels detailing the philosopher's life. Sightseeing boats line the river, and visitors can take a leisurely cruise set to the distant strains of guqin, a traditional Chinese stringed instrument of the zither family.
Where: Gongyuan Street, Qinhuai
Admission: Confucius Temple grounds, CNY 40 (US $6); 50-minute Qinhuai riverboat ride, CNY 55 (US $8.35) daytime / CNY 80 (US $12) evening
Hours: Dacheng Hall, 8 a.m.–9:30 p.m. daily; Imperial Examination Hall, 8:30 a.m.–10 p.m. daily
Website: http://en.njfzm.net/language/english/about.asp
Nanjing Museum
More than 400,000 artifacts and important relics of Chinese culture are on display at the Nanjing Museum—one of the first museums to be established in China, and also one of the largest. Discover everything from China's ancient civilizations to the dawn of the Republic in the 20th century, with a range of colorful exhibitions and interpretations. The museum houses one of the world's largest collections of Ming- and Qing-dynasty porcelain, as well as a particularly well-known burial suit woven with silver wire and hundreds of jade tiles, dating to the Eastern Han dynasty during the second century. Visitors can also enjoy paintings, calligraphy examples and statues in the eight-room Art Hall.
Location: 321 Zhongshan E. Road, Xuanwu
Hours: 9 a.m–5 p.m. daily (closed for maintenance on Monday afternoons)
Admission: Free
Website: www.njmuseum.com/en
Nanjing Library
Visit China's oldest public library, established in 1907. The Nanjing Library served as the national library during the Republic of China, and houses important documents and literature relating to the arts, culture and sciences of Jiangsu Province. It also contains more than 1.5 million ancient books, volumes and manuscripts that include Buddhist scriptures dating from the Tang to the Ming dynasties.
Location: 189 Zhongshan E. Road, Xuanwu
Hours: Monday–Friday, 9 a.m.–9 p.m; Saturday and Sunday, 9 a.m.–5:30 p.m.
Admission: Free
Website: www.jslib.org.cn/njlib_Englishversion/
Xuanwu Lake Park
Only steps away from bustling downtown Nanjing, Xuanwu Lake provides a peaceful urban escape mixed with rich imperial history. With weeping willow trees, paddleboats and arch footbridges spanning across five islands, the lake offers hours of exploration. A stunning array of flowers shade this scenic area a different color every season: Candy-pink cherry blossoms in spring, emerald lotus in summer, golden ginkgos and fiery maples in autumn and snowy white pines in winter. At 1,100 rambling acres, Xuanwu Lake was once the largest imperial lake garden in China. Surrounding the park are historic sites like the City Wall of Nanjing, contrasted with soaring skyscrapers peeking above the trees.
Location: Xuanwu District; Xuanwu Gate is the closest entrance to the park
Hours: 6 a.m.–8 p.m.
Admission: Free park admission; a sightseeing bus around the lake is CNY 30 (US $4.80) per person, per trip
Nanjing Folk Museum
With exhibits focusing on daily life in China, the Nanjing Folk Museum has more than 300 rooms filled with ancient books, traditional Nanjing handicrafts, paper cuttings and clay figures. The building that houses the museum is an attraction in itself; this sprawling mansion is Nanjing's largest and best-preserved private estate, and dates back to the Ming dynasty. Craftsmen demonstrate how a variety of crafts are made, and visitors can even take a workshop to learn some of the techniques themselves.
Location: No.15, 17 and 19, South Zhongshan Road
Hours: 9 a.m.–5 p.m. daily
Admission: CNY 20 (US $3.20)
Nanjing Niushoushan Cultural Park
Established in late 2015, Niushoushan Cultural Park invites visitors to immerse themselves in the mystic landscapes and sacred relics of Niushou Mountain—a breathtaking ancient Buddhist site in the south of Nanjing. The centerpiece of the park is an ornate and intricate Buddhist palace, spanning six floors underground, built into the side of the mountain. Visitors can also explore the Pagoda of Hongjue Temple and the nine-story Usnisa Pagoda, as well as Usnisa Temple, a monastery complex featuring monks' living quarters and a large meditation hall.
Location: Jiangning District
Hours: 9 a.m.–5 p.m. daily
Admission: 160 CNY (US $23.95)
Website: http://eng.niushoushan.net
Nanjing Yunjin Cloud Brocade Museum
One of China's oldest and most treasured handicrafts, the art of yunjin, or cloud brocade, originated in the area of Jiangsu Province almost 1,600 years ago. So beloved is the brocade that it was recognized as an Intangible Heritage of Humanity by UNESCO. Using a complex and intricate weaving method, precious materials like gold, silk and peacock feather threads are incorporated to create the yunjin, which translates to "beautiful as clouds at sunset." Historically, the silk brocades were reserved for the dragon robes of Chinese royalty; the ancient method is still used today to produce souvenirs and high-end garments. Museum visitors can watch craftsmen create the brocades, as well as participate in a workshop that teaches some of the weaving techniques.
Location: No.240, Chating Street (East), Jianye District
Hours: 8:30 a.m.–5 p.m. daily
Admission: Free
Sifang Art Museum
Perched in a dense forest in the hilly outskirts of Nanjing, the Sifang Art Museum is a futuristic marvel of modern architecture that is as much a draw as the contemporary art collection it houses. The museum was conceived by local real estate developer Lu Jun, as a comment on China's rapid development. Completed in 2013, the centerpiece of the Sifang Art Museum is a striking suspended gallery, designed by New York-based architect Steven Holl. Inside, a fine art collection and rotating exhibits aim to promote public appreciation for contemporary art and architecture in Nanjing.
Location: No.9 Zhenqi Road, Pukou District
Hours: Wednesday–Sunday, 10 a.m.–5 p.m. Guided tours, Wednesday and Saturday, 2 p.m.–5 p.m. Reservations required, and groups must consist of 10 or more. Reservations must be made at least a week in advance.
Admission: General admission: 50 CNY (US $7.80). Exterior tour: 30 CNY (US $4.50). Sifang Art Museum exhibition including interior and a tour around Sifang Collective exterior: 40 CNY (US $6). VIP tour: 100 CNY (US $15.20)
Website: www.sifangartmuseum.org/en
Chaotian Palace ("Palace of Heaven Veneration")
Chaotian Palace or "Palace of Heaven Veneration" is the largest preserved traditional Chinese architectural complex in Jiangnan and one of three Confucius Temples in Nanjing.
Wuchoa Gate
Once the gateway to Nanjing's "Forbidden City." The first Ming emperors believed this location was the center of the universe and directly on the Meridian line.
Imperial Examination Museum
Sits on the largest former examination yard in South China. It was here that candidates would be tested on their knowledge of the classics and literary style, not technical expertise. For over 1,400 years, this system was the law of the land and also known as the fifth great invention of ancient China.
Plum Blossom Hill
30,000 plum blossom trees cover 1,500 acres with nearly 500 varieties of plum blossom. It's called "the world of plum blossoms" and ranked top of the Four Plum Gardens in China.
Rain Flower Terrace
The Rain Flower Terrace is also called the Agate Hillock. It produces lots of colorful agate stones, additionally the top of the hillock is like a platform, so local people like to call it "the Rain Flower Terrace". The name is related with a beautiful legend. Don't miss a chance to visit the 1,800-year-old Gaozuo Temple.