Body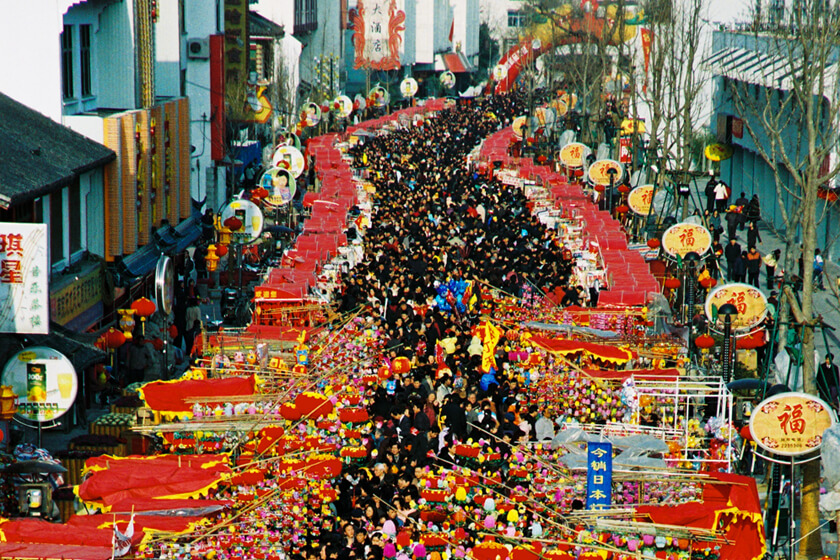 Qinhuai International Lantern Festival
Hundreds of thousands of red lanterns illuminate the Confucius Temple area of Nanjing at this largest lantern festival in China. Traditionally celebrated to pray for a happy family, peaceful world and good weather for crops, the Qinhuai International Lantern Festival traces its origins to the Southern Dynasties period, and today is observed with a variety of folk customs.
When: February/March (held on the 15th day of the first lunar month, which varies by year)
Nanjing International Plum Blossom Festival
Nanjing's city flower is the plum blossom, and every spring Purple Mountain awakens with color and fragrance during the Nanjing International Plum Blossom Festival. Around 35,000 trees unfurl to reveal a rainbow of purples, pinks, oranges and magentas in one of Nanjing's most scenic areas, alongside traditional Chinese music and dance performances.
When: Mid-/late-February–March (depending on the annual blossom)
Nanjing Dragon Boat Festival
Dragon boat races are one of China's oldest traditions, dating back more than 2,500 years, and scores of spectators gather every summer to watch teams compete in these long, wooden, colorfully decorated boats at Nanjing's Mochou Lake Park. During the festivities, revelers also enjoy traditional foods such as zongzi, which are rice dumplings flavored with nuts and wrapped inside bamboo leaves.
When: June
Hairy Crab Festival
Rich, buttery hairy crabs are considered a delicacy throughout Asia, and one of China's best breeding grounds is Gucheng Lake, located in Gaochun County in southern Nanjing. It's here that these fur-fringed crustaceans are celebrated every fall, when the crabs reach peak flavor. Vendors and stalls flood the streets, selling hairy crabs as fast as hungry foodies from China and beyond can eat them.
When: September/October
Rain Flower Stone Festival
With striking patterns and swirls of color, rain flower stones are a special Nanjing treasure, polished smooth by the constant flow of the Yangtze River. Every September, the Rain Flower Stone Festival celebrates this unique sedimentary stone with exhibitions, stone-picking tours and traditional performances.
When: September