Body
As a growing metropolis with a population exceeding 8 million, Nanjing has joined the global elite ranks for event tourism. Its ascent was propelled by the 2014 Youth Summer Olympic Games, when the city's infrastructure and facilities received a massive overhaul in the lead-up to the event. Now, meeting planners and attendees alike are flocking to this ancient capital with modern perks, and the event calendar gets fuller every year. With first-class meeting facilities for hosting a successful conference, exhibition or event by day, plus one-of-a-kind cultural attractions to keep attendees entertained in their downtime, it's no mystery why Nanjing is good for business.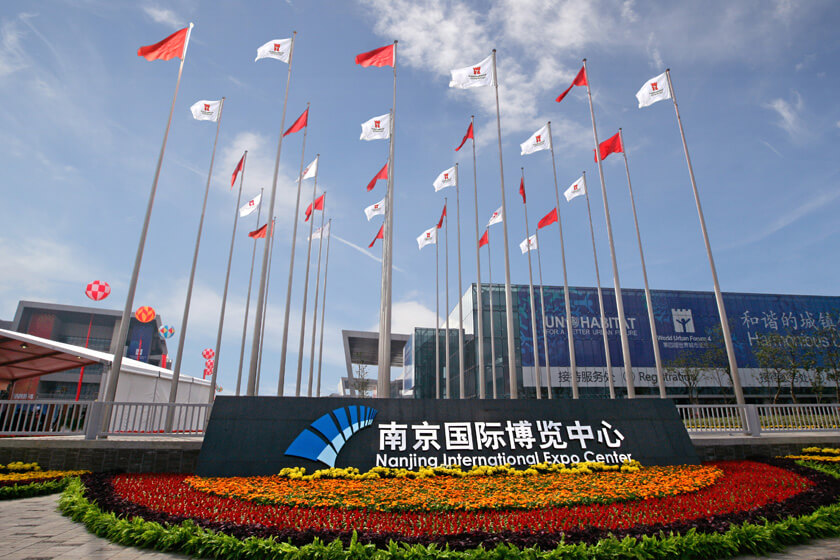 Conventions & Events
Nanjing has more than 23 designated conference venues across the city, with leading-edge technological infrastructure and contemporary design. Here are some of Nanjing's premier venues for large-scale events, exhibitions, trade shows and corporate meetings.
With modern, angular exterior architecture designed to reflect Nanjing's many natural landscapes, the Nanjing International Expo Center (NIEC) is an elite event facility with eight exhibition pavilions and 38 conference rooms comprising more than 1.8 million square feet (120,000 square meters). The complex also encompasses an outdoor exhibition space and conference center with food and beverage and a hotel.
Also located within the Nanjing International Expo Center complex is the Jinling Convention Center, an ideal site for large-scale banquets. The property features 14 fully equipped meeting rooms, Western and Chinese restaurants and 17 dining rooms. Function rooms include the Zhonghua Exhibition Hall, Zijin Hall and the Zhongshan Ballroom.
Perched on the eastern edge of Xuanwu Lake, the Nanjing International Exhibition Center (NJIEC) encompasses nearly 1.2 million square feet (108,000 square meters) of event space. This ultra-modern facility was developed in accordance with international exhibition standards, and is equipped with the high-tech infrastructure for all manner of large events. Its location puts attendees within easy access to the airport, railway stations and downtown Nanjing.
Sifang Collective
Don't be afraid to think outside the boardroom. Wow your attendees with an event held at Sifang Collective, an art museum and masterpiece of modern architecture set in a peaceful forest. Sifang Collective has creative indoor and outdoor gathering spaces that can be tailored to suit a variety of event styles and sizes, not to mention keep your attendees inspired.
Conference Hotels
Among the shimmering skyscrapers of Nanjing's ever-expanding skyline you'll find a number of well-equipped conference hotels that offer flexible meeting space, luxury accommodations and unparalleled service. These are a few of Nanjing's top properties for business.
Grand Metropark Hotel Nanjing
Hotel rooms: 561
Meeting rooms: 23
Capacity: 1,200 (in the Grand Ballroom)
Hilton Nanjing Riverside
Hotel rooms: 411
Meeting rooms: 16 meeting rooms
Capacity: 1,100
International Conference Hotel Nanjing
Hotel rooms: 352
Meeting rooms: 9
Capacity: 1,300 (in the Peach Hall)
Purple Palace Hotel
Hotel rooms: 337
Meeting rooms: 3
Capacity: 660
Jinling Hotel
Hotel rooms: 970
Meeting rooms: 9
Capacity: 1,228
More Nanjing Hotels with Meeting Facilities:
The Westin Nanjing
InterContinental Nanjing
Sheraton Nanjing Kingsley Hotel & Towers
AREA ACTIVITIES
Before, after or in-between sessions, meeting attendees (and their families) will have plenty to do in Nanjing. Families will love visiting the pandas at Hongshan Forest Zoo, browsing the shops at Confucius Temple or taking a boat tour down the Qinhuai River. For foodies, a trip to the Shiziqiao or Sanpailou food districts is in order, with opportunities to sample a mind-boggling variety of local, regional and global street foods. The list is long for history buffs; landmarks include the Nanjing City Wall, Presidential Palace and Xiaoling Tomb of the Ming Dynasty (and that's only scratching the surface). Or take a dip in the spectacular Tangshan Hot Springs, the perfect way to unwind after a long day's—or week's—work.